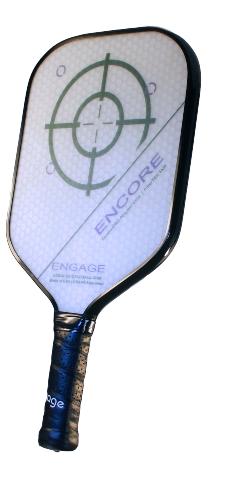 USED & CLEARANCE PADDLE DISCLAIMER
Used Paddles are typically customer returns, demos that have been lightly used. Clearance items are generally new items that are no longer current or are unused but missing packaging. All Used paddles and Clearance paddles have been carefully inspected and are free of any structural damage that may affect performance. Pre-Owned paddles may have cosmetic signs of use or damage such as scuffing on the edge-guard, scratches, and/or chips in the paint. Paddle Condition may vary and is not represented by the images provided.
All Sales of Used Pickleball Paddles are final
Sold out
Original price
$109.99
-
Original price
$109.99
Shape:
Weight Class:
Light Weight (7.4oz - 7.7oz)
Grip Size:
Core Thickness:
Only the Encore was specially designed to maximize deflection (power) and surface roughness (spin).
Based on USAPA guidelines, the Encore hits both limits.
Meaning no paddle can ever have more of either.
They can aspire to be equal, but can never surpass.
  Now you have the control (spin) to keep those hard shots in.
The design of the Encore goes further, by maximizing the amount of time the ball stays on the paddle (a concept originally developed by EngagePickleball), enabling the soft feel you need to command the soft (net) game.
The Encore line of paddles have always been about 'control' and 'ball placement', and having the perfect paddle to do just that (what you want with the ball) whether you hit 'hard' or 'soft'.
Only the 'Encore' line of paddles.  We call it ControlPro™ Technology.
Innovation.  Creativity.  Ingenuity.  Exclusively by EngagePickleball.
Specifications:
Core: Polypropylene / Polymer Honeycomb
Skin: Specialized 'Proprietary' Fiberglass
Optimized to Meet Stringent Community Noise Requirements: Yes
Weight: 7.4 - 7.8 oz
Size: 15 1/2" long x 8 1/8" wide
Grip: 4 1/4"
Color:  Blue, Red, Purple, Green
USAPA Listed and Approved