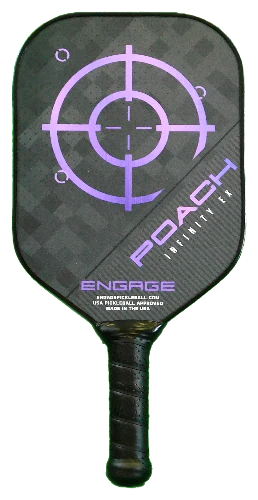 USED & CLEARANCE PADDLE DISCLAIMER
Used Paddles are typically customer returns, demos that have been lightly used. Clearance items are generally new items that are no longer current or are unused but missing packaging. All Used paddles and Clearance paddles have been carefully inspected and are free of any structural damage that may affect performance. Pre-Owned paddles may have cosmetic signs of use or damage such as scuffing on the edge-guard, scratches, and/or chips in the paint. Paddle Condition may vary and is not represented by the images provided.
All Sales of Used Pickleball Paddles are final
Engage (USED) Poach Infinity EX
Sold out
Original price
$164.99
-
Original price
$164.99
Shape:
Weight Class:
Light Weight (7.4oz - 7.7oz)
Mid-weight (7.8oz - 8.2oz)
Grip Size:
Core Thickness:
The NEW Poach Infinity. The most technologically advanced paddle in the market.  Specifically designed for players that:

Have (or the tendency to have) tennis elbow.

Want a soft feeling control paddle to shape (spin) the ball that also creates power when & where you want it.
Like diversity (with (4) different shapes to fit your style of play):  EX (16" x 8"), SX (16.25" x 7.75"), MX (16.5" x 7.5"), LX (17" x 7").
The 'technology' that makes it happen:
| | |
| --- | --- |
|  Technology to mitigate tennis elbow: | Technology to enhance control, spin and power. |
| Vibration Dampening Skin - Eliminates vibration at the point of contact (at it's source) not lower within the paddle or via other objects placed inside the paddle that only stops it from traveling to the hand. | Variable Release Technology - The proprietary 6-layer skin produces more power the faster you swing (when you want it) |
| Counterweight Technology - Lowers the center of mass (balance point) closer to your hand to 1) mitigate getting tennis elbow by making the paddle more balanced (not head heavy which is one of the main reasons tennis elbow develops) and 2) increase maneuverability (hand speed). | Omni-directional Friction-based Texture - 1) Roughness that spreads out in all directions to create more spin, 2) Surface 'friction' hits the upper limits / range allowed, and 3) softest skin (and core) that holds the ball longer (main factor in producing spin). |
| Proprietary ControlPro 'Black' Polymer Core - Creates the softest hitting paddle for those that like soft feeling paddles or have tendency for tennis elbow (mitigates vibration) | Variable Flex Technology - Designed to flex at the point of contact for more 'forgiving' shot making. |
Diversity with (4) different shapes to fit your playing style:
| | | |
| --- | --- | --- |
|  Name | Shape | Grip Length |
| Poach Infinity EX (standard) | 16" long x 8" wide | 5.25 inch |
| Poach Infinity SX (short grip) | 16.25" long x 7.7" wide | 4 inch |
| Poach Infinity MX (elongated) | 16.5" long x 7.5" wide | 6 inch |
| Poach Infinity LX (blade) | 17" long x 7" wide | 5.25 inch |
What are some other attributes of the Poach Infinity?
Large sweet spot for more on-center hits (which means more balls landing in).
Solid feel at the point of contact for more control and ball feel.
Never before has so much research and development gone into paddle development. The NEW Poach Infinity is the most advanced paddle in the market designed to take the game and you to the next level.
Innovation. Creativity. Ingenuity. Exclusively by EngagePickleball.

Specifications:
Core: Proprietary Polymer Composite (Control Pro 'Black' Technology)

Skin: Proprietary Omni-directional friction-based 6-layer Textured Composite

Weight: 

Lite 7.5-7.8, 

Standard 7.9 - 8.3 oz.

Size: 16" long x 8" wide

Grip Circumference: 4 1/4"

Grip Length: 5.5"

Colors: Blue, Red, Purple, Green


Optimized to pass most stringent community noise requirements

Three (3) technologies for Vibration Control Technology and Tennis Elbow Mitigation.

USAPA listed and approved for tournament play