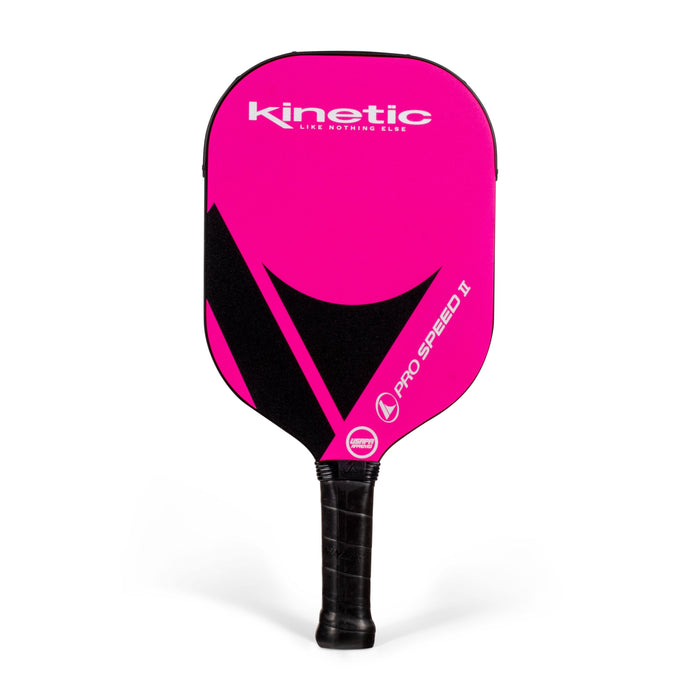 USED & CLEARANCE PADDLE DISCLAIMER
Used Paddles are typically customer returns, demos that have been lightly used. Clearance items are generally new items that are no longer current or are unused but missing packaging. All Used paddles and Clearance paddles have been carefully inspected and are free of any structural damage that may affect performance. Pre-Owned paddles may have cosmetic signs of use or damage such as scuffing on the edge-guard, scratches, and/or chips in the paint. Paddle Condition may vary and is not represented by the images provided.
All Sales of Used Pickleball Paddles are final
PROKENNEX (USED) PRO SPEED II
Sold out
Original price
$169.95
-
Original price
$169.95
Shape:
Weight Class:
Mid-weight (7.8oz - 8.2oz)
Grip Size:
Core Thickness:
Engineered for maneuverability with wind-resistant edgeless construction and thin core technology, the paddle is lightning in your hand. Built for quickness and reflex enhancement, the paddle boasts unparalleled tip speed. With the Kinetic shock-absorbing system, touch, feel, and kitchen play are all enhanced bringing the best of both worlds to the Pro Speed Gen 2.

The Gen 2 comes updated with our new Air-O-Guard bumper system as well as a fresh new paint job!
Weight: 7.7 - 8 OZ 
Grip Style: Comfort Cushion
Grip Circumference: 4"
Handle Length: 4 7/8" 
Paddle Length: 15.43"
Paddle Width: 7.6" 
Paddle Face: Proprietary 7-layer coating and complex composite, including specially treated soft skin with spin-grab feature, carbon/fiberglass and Prokennex Release epoxy/resin system.
Paddle Frame: Kinetic System Technology with Carbon Casing
Core Material: Polypropylene honeycomb matrix with special quiet, high impact resistance polymer
Edge Guard: Replaceable Air-O-Guard bumper system
Approved For Use In USAPA Sanctioned Tournament