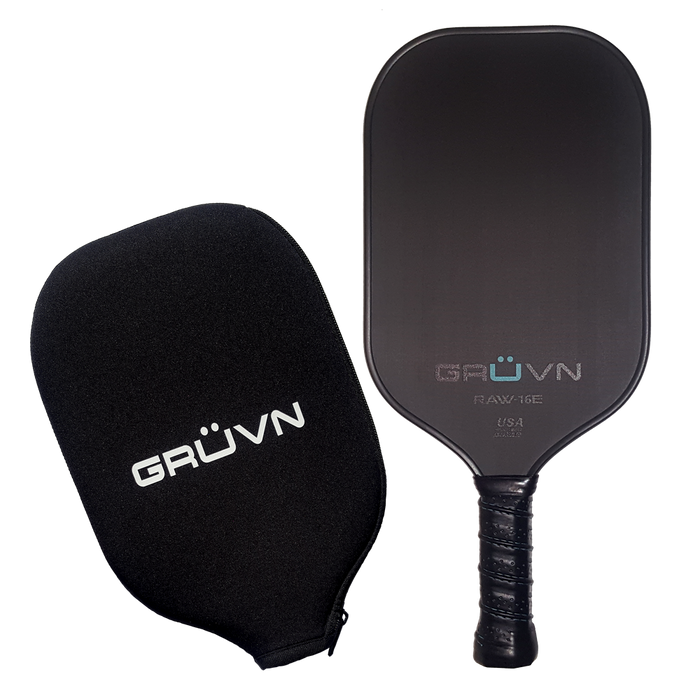 Sold out
Original price
$159.00
-
Original price
$159.00
Shape:
Weight Class:
Mid-weight (7.8oz - 8.2oz)
Grip Size:
Core Thickness:
GRUVN's RAW-16E is a high-quality, mid-weight pickleball paddle featuring a premium T700 raw carbon fiber surface, an elongated shape, and a huge sweet spot. It is approved by USA Pickleball (USAPA) for tournament play. Raw carbon fiber paddles provide a grainy textured surface that allows for a lot of spin and enhances control. The combination of this paddle's raw surface and the thick 16mm core results in a strong, stable paddle with consistent and accurate shots and more control.

The elongated shape increases the surface area of the paddle to hit more shots and extend your reach, and is great for players who enjoy the quick battles in the kitchen. The RAW-16E has a weight of ~7.8-8.1 ounces to provide stability and balance for all aspects of the game, including plays at the net and returning hard shots, and the 5.25" long handle provides the opportunity for two-handed backhands.

The RAW-16E has a 16mm thick polypropylene honeycomb core designed to evenly react to the force of impact and provide precision control, while also absorbing vibration and noise. Many facilities and clubs ban loud paddles that include other core materials, so the RAW-16E is perfect for people who play in residential communities and in clubs and facilities that require quieter paddles. Polypropylene is the most popular core among pickleball players.
The Stitched Perforated Cushion Grip is made of PU (polyurethane) leather with keel sewing thread. It is a very comfortable cushion grip, and perforated sweat absorbent.

This paddle also comes with a zippered neoprene cover with the GRÜVN logo to protect the pickleball paddle when not in play ($15 value!).

SPECS
Paddle Length: 16.5"/ 419.1mm
Face Width: 7.375"/ 187.3mm
Handle Length: 5.25"/ 13.3cm
Grip Size Circumference: 4.375"/11.1cm
Grip: Stitched Perforated Cushion Grip
Weight: ~7.8-8.1 oz/0.49-0.51 lbs/221-230g
Face/Paddle Surface: T700 Raw Carbon Fiber 
Paddle Shape: Elongated
Core Material: Polypropylene Honeycomb
Core Thickness: 16mm/0.63"
Honeycomb Cell Size: 8mm/0.3"
Edge Guard: Yes
USAPA Approved for sanctioned tournament play