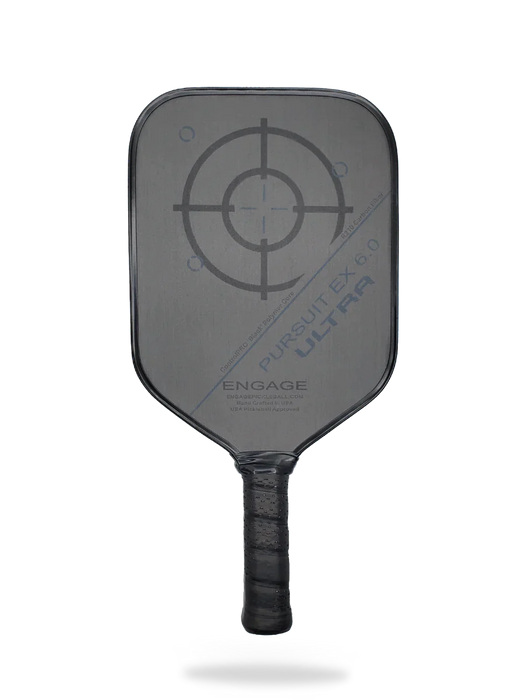 USED & CLEARANCE PADDLE DISCLAIMER
Used Paddles are typically customer returns, demos that have been lightly used. Clearance items are generally new items that are no longer current or are unused but missing packaging. All Used paddles and Clearance paddles have been carefully inspected and are free of any structural damage that may affect performance. Pre-Owned paddles may have cosmetic signs of use or damage such as scuffing on the edge-guard, scratches, and/or chips in the paint. Paddle Condition may vary and is not represented by the images provided.
All Sales of Used Pickleball Paddles are final
PROMO (USED) ENGAGE Pursuit ULTRA EX 6.0 Carbon Fiber
Original price
$259.99
-
Original price
$259.99
Shape:
Weight Class:
Light Weight (7.4oz - 7.7oz)
Mid-weight (7.8oz - 8.2oz)
Grip Size:
Core Thickness:
The NEW Pursuit Ultra EX paddle (The Ultimate in Control, Power & Spin).  The Pursuit Ultra line of paddles is Engage's Flagship line and the paddle of choice for top Pro players Jessie Irvine and Dekel Bar.
Engage's most advanced paddle ever.  Taking innovation to new heights.
R210 Carbon Fiber
Proprietary chemically bonded Carbon Fiber technology for maximum texture and friction between the ball and surface for unmatched spin.
Increased surface strength
Latest technology to ensure a consistent surface compression and rebound rate for enhanced ball control and feel.
Vortex Barrier Edge Technology
Next generation composite injected into the outer cells for weight distribution and vibration control.
Increases the weight at the edge creating a larger sweet spot and 'point of contact' surface area with the ball.
Dramatically reduces vibration (and sound) minimizing tennis elbow and other arm injuries.
Uniform Guard Technology
Bonding of the edge guard and paddle for improved force distribution.
Provides the ultimate in force distribution enlarging the sweet spot.
Increases control and overall ball feel at the point of contact.
Counter Balance Technology
Lowering the balance point of the paddle.
Innovative technology to lower the balance point of the paddle closer to your hand for 1) improved hand speed, 2) lighter paddle feel, and 3) less arm fatigue and chances of tennis elbow.
Increases the strength of the paddle for the aggressive players.
Control Pro Black Polymer Core
Proprietary innovation that creates the softest core in the market that controls the rate of paddle compression and rebound rate creating:
The ultimate soft feel at the point of contact.
More consistent ball control.
A 3rd technology that reduces vibration (arm fatigue and tennis elbow) along with sound.
Shape:
EX (16" x 8") with a 5" handle length
Colors:
Other Specifications:
Core: Proprietary Polymer Composite (Control Pro 'Black' Technology)

Skin: Proprietary Chemically Bonded Omni-directional friction based Carbon Fiber

Optimized to pass most stringent community noise requirements

USAPA listed and approved for tournament play
Innovation.  Creativity.  Ingenuity.  Exclusively by EngagePickleball.