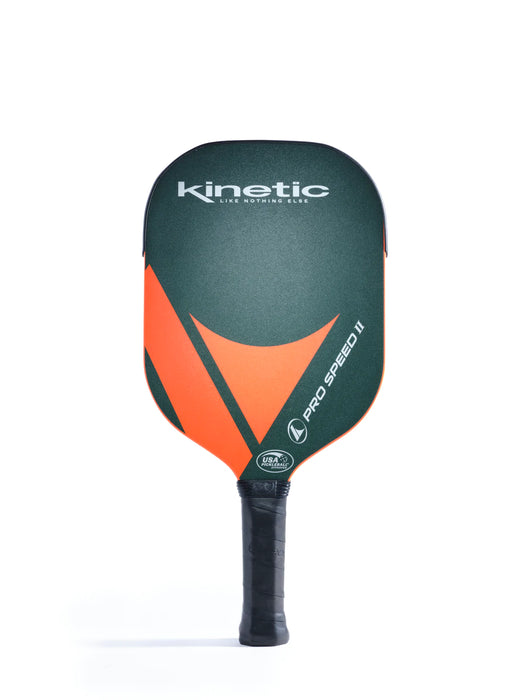 PROKENNEX 2023 PRO SPEED II
Original price
$179.95
-
Original price
$179.95
Shape:
Weight Class:
Mid-weight (7.8oz - 8.2oz)
Grip Size:
Core Thickness:
Engineered for maneuverability with wind-resistant edgeless construction and thin core technology, the paddle is lightning in your hand. Built for quickness and reflex enhancement, the paddle boasts unparalleled tip speed. With the Kinetic shock-absorbing system, touch, feel, and kitchen play are all enhanced bringing the best of both worlds to the Pro Speed Gen 2.
The Gen 2 comes updated with our new Air-O-Guard bumper system as well as a fresh new paint job!
Weight: 7.7 - 8 OZ 
Grip Style: Comfort Cushion
Grip Circumference: 4"
Handle Length: 4 7/8" 
Paddle Length: 15.43"
Paddle Width: 7.6" 
Paddle Face: Proprietary 7-layer coating and complex composite, including specially treated soft skin with spin-grab feature, carbon/fiberglass and Prokennex Release epoxy/resin system.
Paddle Frame: Kinetic System Technology with Carbon Casing
Core Material: Polypropylene honeycomb matrix with special quiet, high impact resistance polymer
Edge Guard: Replaceable Air-O-Guard bumper system
Approved For Use In USAPA Sanctioned Tournament