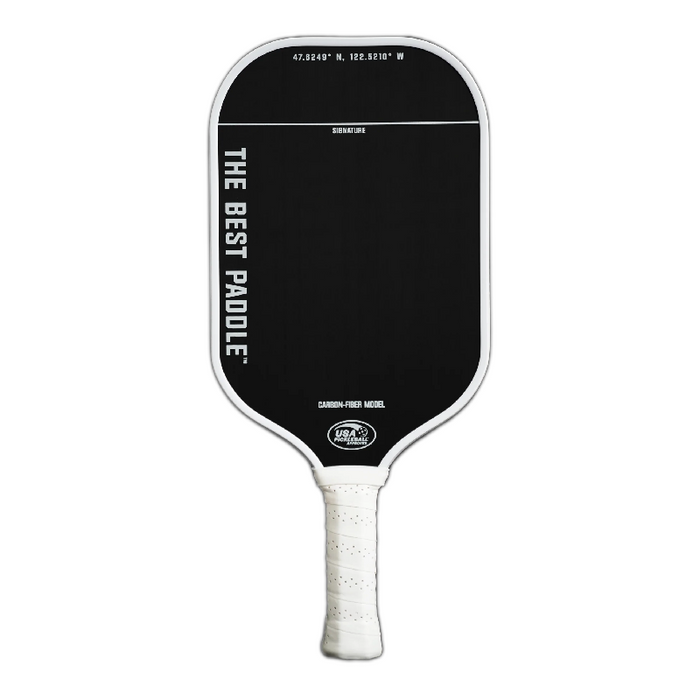 The Best Paddle The Best Paddle Carbon Fiber
Sold out
Original price
$149.99
-
Original price
$149.99
Shape:
Weight Class:
Mid-weight (7.8oz - 8.2oz)
Grip Size:
Core Thickness:
USAPA APPROVED
All of our paddles are the best paddles!  But this model is our top of the line carbon fiber paddle.  It features a black carbon fiber surface for its massive spin and incredible ball control.  Inside is a honeycomb polypropylene core for extreme power, or soft touch hits at the net.  This paddle is elongated for those shots where you need to reach as far as you can.  It is also very light in weight for fast swing movements.  We prefer light weight paddles because it helps prevent tennis elbow.  But for players who need a heavier paddle, you can easily add weights.   We've tested many different paddles across different brands and manufacturers and our paddles really are the best we have played with!  Find out why people love this paddle!  
Looking at the top area of the paddle you will see geographic coordinates.  These are the latitude and longitude to where pickleball was created in Bainbridge Island, Washington, USA.
The signature line is an area where you can sign your own paddle.  Why did we do this?  We found three reasons.  The first reason we found, by signing your name on your "best paddle", you are committing to playing your best!  Since we think pickleball psychology plays a major role in how you perform.  The second reason, we liked the look after you sign it.  We recommend a paint pen or a sharpie!  And the third reason, so you know it's your paddle and not someone else's!
Length : 420mm(16.54inches)
Width : 190mm(7.48 inches)
Thickness : 16mm (0.63inches)
Grip Length : 120mm (4.72 inches) Grip Circumference : 108mm( 4.25 inches)
Weight : 230+/-5g (8.11 oz)

Material : Polypropylene Honeycomb Core.
Surface : T700 Carbon Fiber