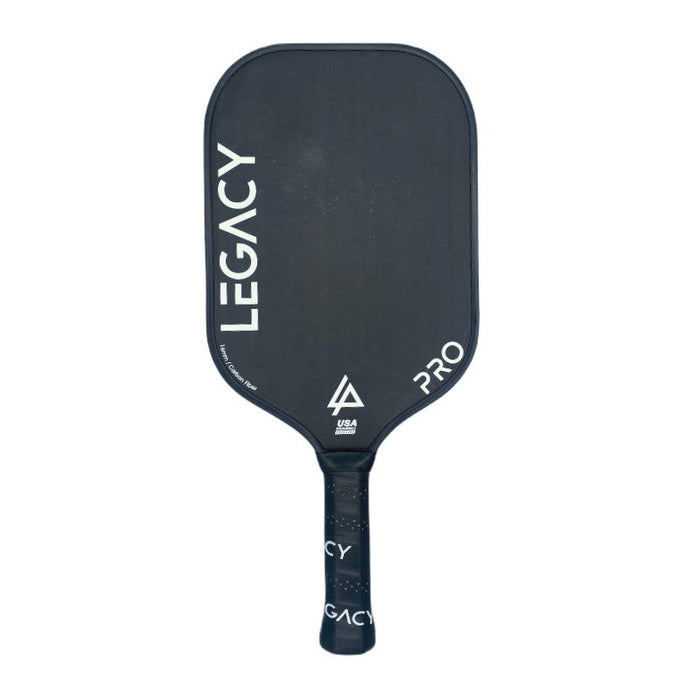 USED & CLEARANCE PADDLE DISCLAIMER
Used Paddles are typically customer returns, demos that have been lightly used. Clearance items are generally new items that are no longer current or are unused but missing packaging. All Used paddles and Clearance paddles have been carefully inspected and are free of any structural damage that may affect performance. Pre-Owned paddles may have cosmetic signs of use or damage such as scuffing on the edge-guard, scratches, and/or chips in the paint. Paddle Condition may vary and is not represented by the images provided.
All Sales of Used Pickleball Paddles are final
Sold out
Original price
$169.99
-
Original price
$169.99
Shape:
Weight Class:
Mid-weight (7.8oz - 8.2oz)
Grip Size:
Core Thickness:
The Legacy Pro is unmatched in its balance between spin and power. A true versatile paddle that can reset the ball and apply power to those shots that require a little more oomph. The Toray t700 carbon fiber face mixed with the special layering combine to make this paddle stand out amongst the rest. The core has been modified to help reduce vibration for those players looking to stay away from pesky arm injuries. Designed specifically to be well balanced fresh out of the package. We have engineered the Legacy Pro to withstand lots of stress at the handle. The thermoforming seal with foam takes the stability of the paddle to new heights in the Pickleball Industry. Take your game to the next level with this top of the line carbon fiber paddle. The best just wasn't good enough....until now! USAPA approved. 
Dimensions:
Face: Toray t700 Raw Carbon Fiber
Thermoformed Sealed Edges for added stability and extended sweet spot differential. 
Length: 16-1/2"
Width: 7-1/2"
Core Thickness: 16mm, Compressed 8mm cells to combat vibrations and help increase dwell time. 
Handle length: 5.3"
Octagonal Handle grip circumference: 16mm=4.125"
Weight: 8.0 +- 0.3oz
One piece construction-Balanced out of the package: Core & Face runs from the top to the bottom of the paddle.