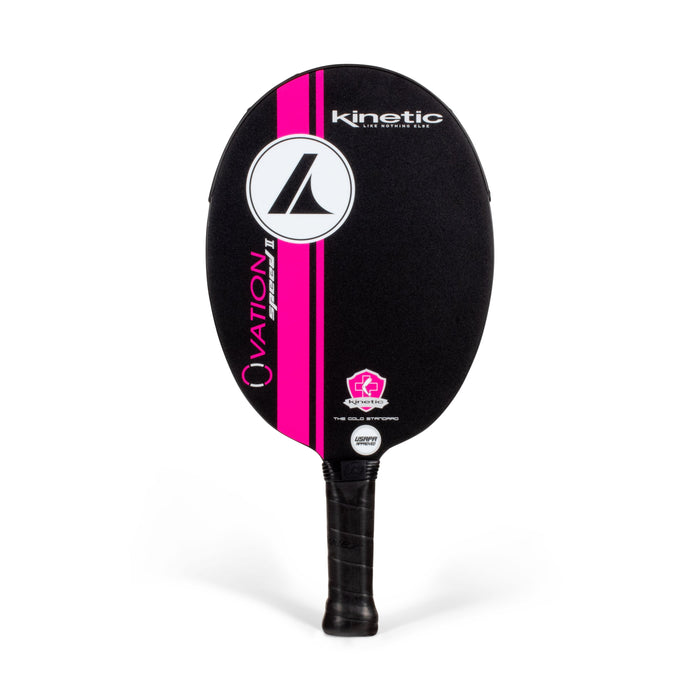 USED & CLEARANCE PADDLE DISCLAIMER
Used Paddles are typically customer returns, demos that have been lightly used. Clearance items are generally new items that are no longer current or are unused but missing packaging. All Used paddles and Clearance paddles have been carefully inspected and are free of any structural damage that may affect performance. Pre-Owned paddles may have cosmetic signs of use or damage such as scuffing on the edge-guard, scratches, and/or chips in the paint. Paddle Condition may vary and is not represented by the images provided.
All Sales of Used Pickleball Paddles are final
PROKENNEX (USED) OVATION SPEED II
Sold out
Original price
$169.95
-
Original price
$169.95
Shape:
Weight Class:
Mid-weight (7.8oz - 8.2oz)
Grip Size:
Core Thickness:
We are shapeshifting the science of better performance with the OVATION SPEED II. This paddle is the exact same paddle as our amazing original Ovation Speed with an updated edge guard and new paint job!
With the new Ovation Speed, Pro Kennex engineers have applied the physics of shape design to elevate paddle performance with an expanded sweet spot and a more efficient energy transfer. The new modified oval shape creates one of nature's strongest designs, bringing a higher percentage of paddle mass along the center axis. Players looking for a competitive advantage in their equipment will immediately notice an increase in paddle maneuverability and speed.
At the foundation of this high-performance package is our new Opti-Cell Core construction, which is indispensable to the high-performance level achieved in the new Ovation Shape design. Integrated together, they deliver an exceedingly plush ball strike, allowing you to maneuver your shot with confidence. 
To finish off this masterful performance package is our proprietary 7 Layer, Complex Carbon face with its Spin-Grab outer layer surface. 
And, of course, our world-famous Kinetic technology is integrated into the perimeter of the paddle for unparalleled arm protection and extended dwell time. All verified by independent labs and Koln University, in Germany. 
The paddle also comes with our new replaceable Air-O-Guard bumper system.
Weight: 7.7 - 8.0 OZ *Exact weight cannot be chosen
Grip Style: Comfort Cushion
Grip Circumference: 3.875 Tapered
Handle Length: 4 7/8" = 12.3 cm
Paddle Length: 15.67"= 398mm
Paddle Width: 7.6" = 19.3cm
Paddle Face: Proprietary 7-layer coating and complex composite, including specially treated soft skin with spin-grab feature, carbon/fiberglass, and ProKennex Release epoxy/resin system.
Paddle Frame: Kinetic System Technology with Carbon Casing
Core Material: New PK Opti-Cell Core matrix with special quiet, high impact resistance Polymer. 
Edge Guard: Edgeless
The Ovation speed is qualified for USAPA tournament play.