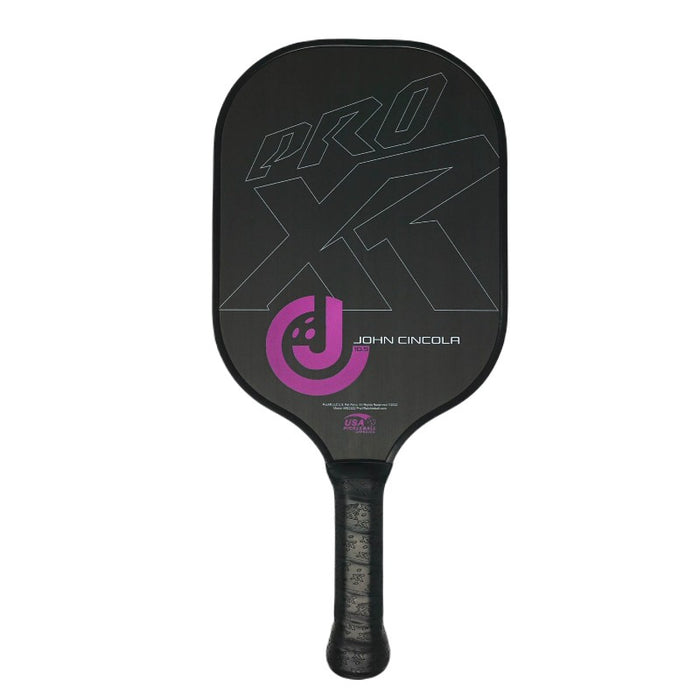 PROXR ProXR John Cincola Signature Carbon
Original price
$199.99
-
Original price
$199.99
Shape:
Weight Class:
Mid-weight (7.8oz - 8.2oz)
Grip Size:
Core Thickness:
ProXR Pickleball's John Cincola Signature Carbon paddle is designed to the exact specifications of #TeamProXRPickleball player John Cincola. John, being ranked #7 Men's Singles player in the world, knows exactly what he needs in a paddle to suit his "banger" playstyle. In other words, the Carbon - John Cincola paddle is perfect for those who like to overpower their opponents with strong and consistent drives.
The John Cincola Signature Carbon features ProXR Pickleball's patent pending XR-23 handle technology, proven effective in major sports such as the MLB and NHL. Founded in ergonomics and bio-mechanical science, the unique handle shape optimizes your hand's connection to the paddle to create quicker reload, increased spin and added control. ProXR Pickleball's John Cincola Signature Carbon paddle features the highest quality materials on the market, designed to the exact specifications of the world's #7 pro player, John Cincola.
FEATURES AND BENEFITS
What does 10.5 mean?
The 10.5 represents the 10.5 mm core thickness featured in this paddle. A 10.5mm core gives you increased pop and power compared to a thicker core.
QUICKER RELOAD, INCREASED SPIN & ADDED CONTROL FROM AN XR-23 HANDLE
Founded in bio-mechanical science and proven in major sports, the ergonomic 23° handle design provides an unmatched connection from player to paddle. From serves to dinks, players immediately notice how effortlessly an XR-23 handle empowers quick execution on any shot.
The ergonomic design of an XR-23 handle provides players:
Quicker reload action thanks to the increased surface area for your hand
Increased power and spin through proper finger placement, guided by the unique 23° design
Unmatched control from a firm and ergonomic grip, unlike any other paddle on the market
UNMATCHED SPIN & CONTROL FROM A RAW CARBON FACE
Experience a powerful, controlled response from our gritty T700 Raw Carbon face that delivers unmatched spin during play.
CONSISTENT SHOTS ENHANCED BY AN OPTIMIZED POLYPROPHELENE HONEYCOMB CORE INTERNAL STRUCTURE
ProXR Pickleball paddles feature an optimized HEXA core, specifically engineered and constructed to provide precise shot consistency, demanded by the best of the best.
APPROVED BY THE USA PICKLEBALL ASSOCIATION
ProXR Pickleball paddles are fully approved and legal for use in tournament play.