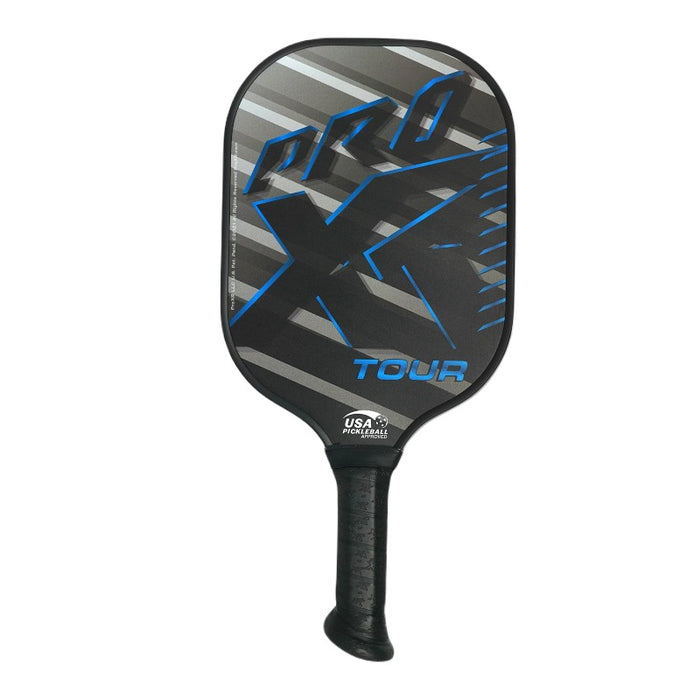 Sold out
Original price
$99.99
-
Original price
$99.99
Shape:
Weight Class:
Mid-weight (7.8oz - 8.2oz)
Grip Size:
Core Thickness:
ONE HANDLE, ONE PADDLE, ALL SHOTS
The ProXR Tour features ProXR Pickleball's patent pending XR-23 handle technology, proven effective in major sports such as the MLB and NHL. Founded in ergonomics and bio-mechanical science, the unique handle shape optimizes your hand's connection to the paddle to create quicker reload, increased spin and added control. The ProXR Tour paddle features the highest quality materials on the market, making it the one paddle you'll need for all your shots.
FEATURES AND BENEFITS
QUICKER RELOAD, INCREASED SPIN & ADDED CONTROL FROM AN XR-23 HANDLE
Founded in bio-mechanical science and proven in major sports, the ergonomic 23° handle design provides an unmatched connection from player to paddle. From serves to dinks, players immediately notice how effortlessly an XR-23 handle empowers quick execution on any shot.
The ergonomic design of an XR-23 handle provides players:
Quicker reload action thanks to the increased surface area for your hand

Increased power and spin through proper finger placement, guided by the unique 

23° design



Unmatched control from a firm and ergonomic grip, unlike any other paddle on the market

UNRIVALED FEEL FROM A PREMIUM C-FIBER FACE

Utilizing a premium C-Fiber material, the Tour's face design paired with TF-dynamics gives players the high definition and responsive feedback expected on each shot.
CONSISTENT SHOTS ENHANCED BY AN OPTIMIZED HEXA CORE INTERNAL STRUCTURE
ProXR Pickleball paddles feature an optimized HEXA core, specifically engineered and constructed to provide precise shot consistency, demanded by the best of the best.
APPROVED BY THE USA PICKLEBALL ASSOCIATION
ProXR Pickleball paddles are fully approved and legal for use in tournament play.
SPECIFICATIONS:
Core Material: Polypropylene 

Face Material: Carbon Fiber
Stated Weights: 8.2 oz, 8.8 oz, 9.6 oz*
Paddle Length: 16.125"
Width: 7.625"
Handle Length: 5.5"
Grip Circumference: 4.25"
*Actual weights may vary +/- .2 oz