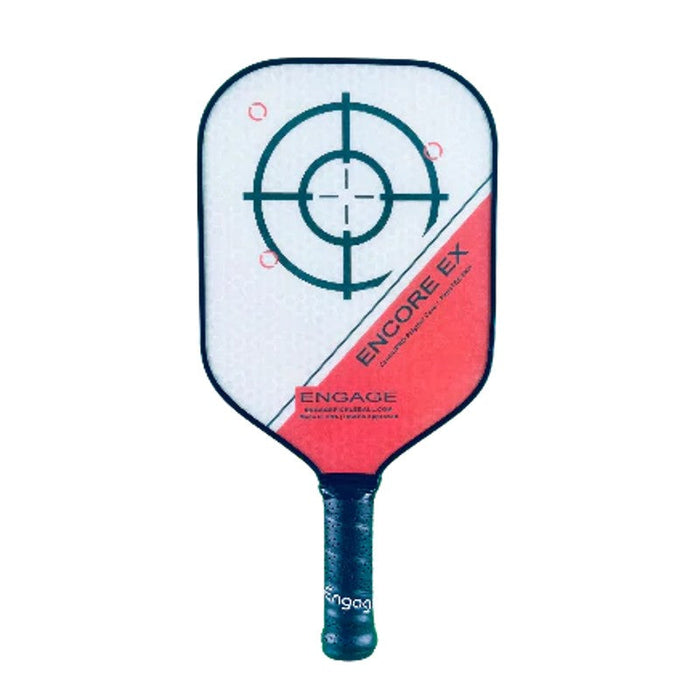 USED & CLEARANCE PADDLE DISCLAIMER
Used Paddles are typically customer returns, demos that have been lightly used. Clearance items are generally new items that are no longer current or are unused but missing packaging. All Used paddles and Clearance paddles have been carefully inspected and are free of any structural damage that may affect performance. Pre-Owned paddles may have cosmetic signs of use or damage such as scuffing on the edge-guard, scratches, and/or chips in the paint. Paddle Condition may vary and is not represented by the images provided.
All Sales of Used Pickleball Paddles are final
Original price
$159.99
-
Original price
$159.99
Shape:
Weight Class:
Light Weight (7.4oz - 7.7oz)
Mid-weight (7.8oz - 8.2oz)
Grip Size:
Core Thickness:
The NEW 'Encore EX'.  The Encore EX is the 1/2 inch version of the top selling Encore EX 6.0.  What's the difference?  The Encore EX just has a little more power.
The Line-up consists of (2) different shapes:
EX:  16" x 8" with a 5" length grip > industry standard shape for great balance between reach, power and control.
MX:  16.5" x 7.5" with a 5.75" length grip > for those looking for more reach, power and spin.
NOTE:  If you are not sure which one, go with the EX.
Paddles with thicker cores have more control and a softer feel at the point of contact.  But as cores get thicker, the power and size of the sweet spot diminishes.  Engage, known for their paddle engineering and innovation, created 'Core & Skin Dimensioning' to fix that issue.  Producing the only 'Thick Core' paddles with a large sweet spot and the right amount of power to put the ball away (while maintaining full control, balance and positioning). 
But if you find you have to over-swing to put the ball away (or get your serve/return deep) with the Encore 6.0 series (or other thick core paddles or any other paddle), you may need a little more power.  That's where the Encore EX (and Encore MX) comes in.  Now you can swing at a normal speed and ensure you stay in control (and not lose the ability to recover for the next shot) when you put that ball away (or need help getting that serve / return deeper).
The NEW 'Encore EX'.  Innovation.  Creativity.  Ingenuity.  Exclusively by EngagePickleball. 
Specifications:
Core: 'ControlPro' Polymer (with Vibration Control Technology)

Skin: FiberTEK' (for maximum forgiveness and spin)

Innovation: Core & Skin Dimensioning (to optimize power and sweet spot)

Designed to Pass Most Stringent Community Noise Requirements

Weight (Range):  LITE 7.5 - 7.8 oz.  Standard 7.9 - 8.3 oz.

Size: 16" long x 8" wide

Grip Length: 5 inches

Grip Circumference: Standard (4 1/4")

Color: Red, Blue, Purple

USAPA Listed and Approved for Tournament Play.