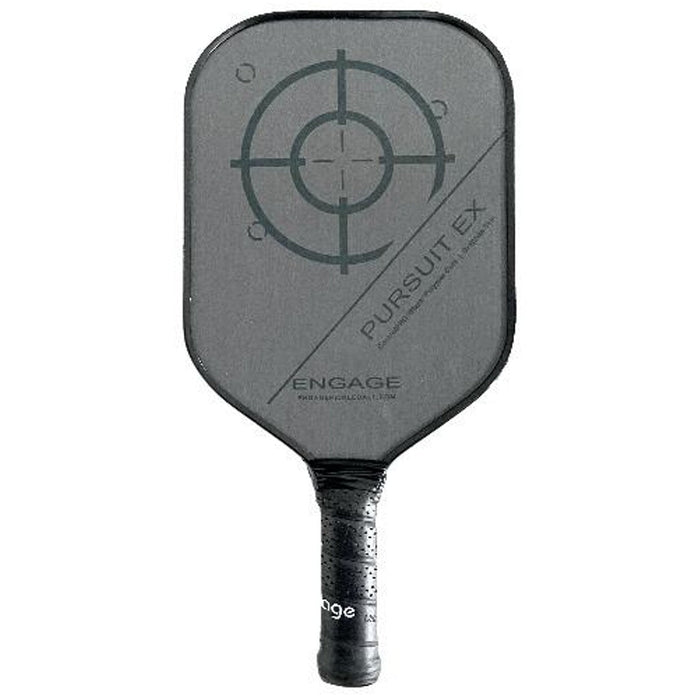 USED & CLEARANCE PADDLE DISCLAIMER
Used Paddles are typically customer returns, demos that have been lightly used. Clearance items are generally new items that are no longer current or are unused but missing packaging. All Used paddles and Clearance paddles have been carefully inspected and are free of any structural damage that may affect performance. Pre-Owned paddles may have cosmetic signs of use or damage such as scuffing on the edge-guard, scratches, and/or chips in the paint. Paddle Condition may vary and is not represented by the images provided.
All Sales of Used Pickleball Paddles are final
Original price
$219.99
-
Original price
$219.99
Shape:
Weight Class:
Feather Weight (7.3oz or less)
Light Weight (7.4oz - 7.7oz)
Mid-weight (7.8oz - 8.2oz)
Grip Size:
Core Thickness:
The NEW Pursuit EX Graphite paddle (Reimagined Control, Power & Feel).  The Pursuit is Engage's Flagship paddle and has been in development for a long time to ensure it will become one of the top selling paddles (if not #1) in the sport.

The Pursuit skin is a proprietary Graphite skin developed specifically for this paddle to work with our 'black' core developed to be the softest core in the market.  The combination of this skin and core makes this paddle unique and the most responsive paddle in the market.
The rough texture is the actual skin (not an overlay texture commonly used in the industry) therefore the texture lasts.  The skin was also designed to enhance friction to ensure the ball stays longer on the paddle.  When you add this skin to the controlled compression of the 'black' core you get a paddle like no other.  Reimagined control, spin and feel.
The paddle comes in many combinations to fit most playing styles:
Shape:
*

 

EX (16" x 8") with a 5" handle length
Core Thickness:
Weight:
7.9 - 8.3 oz (Standard weight)

7.5 - 7.8 oz (LITE weight)

7.1 - 7.4 oz (Featherweight)
Other Specifications:
Core: Proprietary Polymer Composite (Control Pro 'Black' Technology)

Skin: Proprietary Omni-directional friction based Graphite

Grip Circumference: 4 1/4"

Optimized to pass most stringent community noise requirements

Vibration Control Technology

USAPA listed and approved for tournament play