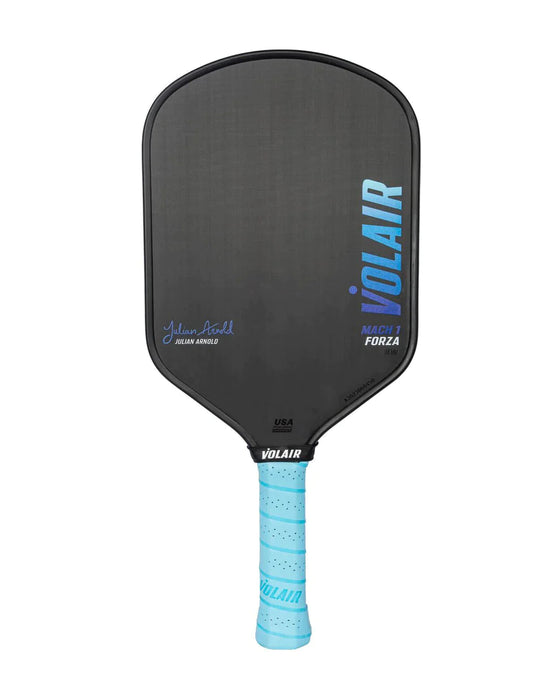 USED & CLEARANCE PADDLE DISCLAIMER
Used Paddles are typically customer returns, demos that have been lightly used. Clearance items are generally new items that are no longer current or are unused but missing packaging. All Used paddles and Clearance paddles have been carefully inspected and are free of any structural damage that may affect performance. Pre-Owned paddles may have cosmetic signs of use or damage such as scuffing on the edge-guard, scratches, and/or chips in the paint. Paddle Condition may vary and is not represented by the images provided.
All Sales of Used Pickleball Paddles are final
Volair (USED) VOLAIR Mach 1 FORZA 14mm Pickleball Paddle
Sold out
Original price
$179.99
-
Original price
$179.99
Shape:
Weight Class:
Mid-weight (7.8oz - 8.2oz)
Grip Size:
Core Thickness:
If the Volair Mach 1 is "Andiamo!" the Mach 1 Forza is "ANDIAMO!!" 

Anyone can make a power paddle, but it takes the right touch to make it usable. This is a paddle for power, but clean power. It does what you want it to do, consistently with every hit. It's balanced and fast in your hand, or both hands if you're doing a two-hander with the elongated handle.

It can be soft when you need it to be, but when you punch it, you'll hear that satisfying pop and watch it crush. Thermoformed for hard hits, foam-injected edge to hold strong and open up that sweet spot, and carefully heat sealed along the edges to cook it all together for good.

And with a premium T700 carbon fiber face, it will have opponents stumbling in all directions with spin.

It's a clean paddle, but if you want to dirty up your game with some lead tape, go nuts. It's the ideal thermoformed canvas for customizing a paddle to just how you like it.

Available in 16mm for a bit more softness and 14mm to all out let it fly.
The Limited Mach 1 Forza Stealth 16mm Edition is available exclusively through Total Pickleball and can be ordered HERE
Features: 
High-Performance Polypropylene Core
Raw Carbon T700 with Foam Injection
Carbon Fiber Reinforced Around the Inside Edge
Pure Soft TPU Edge Guard
EVA parts inside the grip to prevent vibration
Accessories included with every Forza: 
Paddle Headcover

Carbon Touch-up Eraser

Replacement Black Grip

Replacement Paddle Neck Band
Volair Sticker
14 mm Specs: 
Average Weight: 8 oz
Paddle Length: 16.5 in
Paddle Width: 7.5 in
Thickness: 14 mm
Handle Length: 5.5 in
Grip Circumference: 4.125 in
Core Material: Polypropylene Honeycomb, Foam Walls
Paddle Face Material: Raw T700 Carbon Fiber