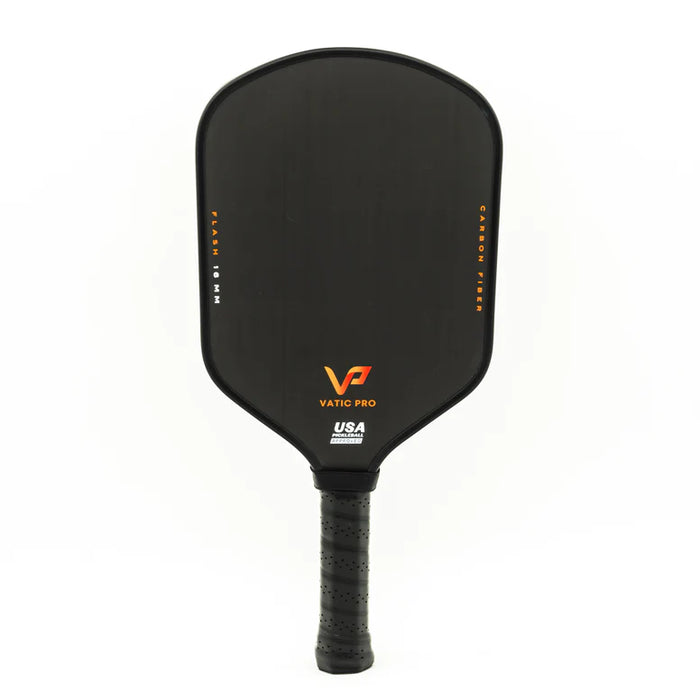 FREE GIFT WITH PURCHASE
Free Paddle Cover ($19.99 value) with Purchase.
*Limited to while supplies last*
VATIC PRO VATIC PRO FLASH CARBON FIBER 16MM
Original price
$139.99
-
Original price
$139.99
Shape:
Weight Class:
Mid-weight (7.8oz - 8.2oz)
Grip Size:
Core Thickness:
The Flash paddle is the optimal intersection of Power, Grit, and Control. We have implemented the highest quality TORAY T700 raw Carbon Fiber and engineering to help you perform at the highest level on the pickleball court.
Using a single piece of 360-degree wrapped heat-pressed TORAY T700 carbon fiber, we provide a dominant yet sleek paddle while still maintaining a competitive price. Carbon fiber is stronger, more resistant to deformation under stress, and more resistant to fatigue and wear than fiberglass or graphite. Even through rigorous play, your Vatic Pro paddle will maintain its integrity, grit, and strength. 
Please note: we work to accommodate all custom weight requests. However, due to increased demand and limited inventory, exact weights are not guaranteed. 
Specifications:
Surface - Raw TORAY T700 Carbon Fiber with heat compressed texturing 
Thermoformed edges and a Unibody Construction

Foam Inject Walls for an increased sweet spot and added control

Average Weight 14mm - 7.9 - 8.2oz
Average Weight 16mm - 8.1 - 8.3oz
Total Length - 16.2 Inches
Width - 7.7 Inches
Grip Circumference - 4.25 Inches
Grip Length - 5.4 Inches (elongated for 2-hand backhands)
Grip has 2 Ethylene Vinyl Acetate inserts to absorb shock and help with tennis elbow
Core - Optimized C7 Polymers and high-grade performance honeycomb
Core Thickness - 14
Edge Guard: Anti-Abrasion TPU